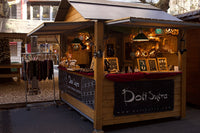 BÔ NOËL 2023
Second Year in BÔ NOËL!
We are in Lausanne, Place Pepinet till 31th December everyday from 12:00-20:00
Treasures from different lands
If you're looking for unique, one-of-a-kind treasures from different lands, you've come to the right place!
We collect items from small local shops and artists, so you can be sure you're getting something special. We avoid mass production, and instead focus on offering unique items that you won't find anywhere else.

We have a wide variety of treasures to choose from, including jewellery, shawls, calabashes, and natural incense.
We're caught up in the festive spirit at Doti Sutra and are busy at the Christmas market. Online orders will resume in February. Thank you for your understanding!
wIRE WRAP CRYSTAL JEWELLERY
Testimonials
Beautiful jewelry, I love the style! Received very quickly, very well packaged (and I even want to keep the packaging because it smells so good ^^')
I will recommend 🙂 Thanks again!

Fiona Lilly
Very good experience as always, and yes I can't get enough of these wonderful articles. The atmosphere is relaxed, the prices are really fair for the quality of the products and I'm not even talking about the "bosses"...they're great!

Ash Khan
Excellent little shop where each item is unique, and chosen with care, finesse and love. Service at the top. Super fast delivery

Leyla Gyger